Outstanding musicians, great conductors, special relationships with composers and an exceptional hall. Discover all the key elements making up 135 years of history.
A history in sixteen minutes
A portrait of the Concertgebouworkest in seven chief conductors.
A very special artistic whole
Over 120 orchestral players hailing from some twenty-five countries perform together as a unique artistic whole, constantly testing their technical and musical limits on the basis of mutual trust.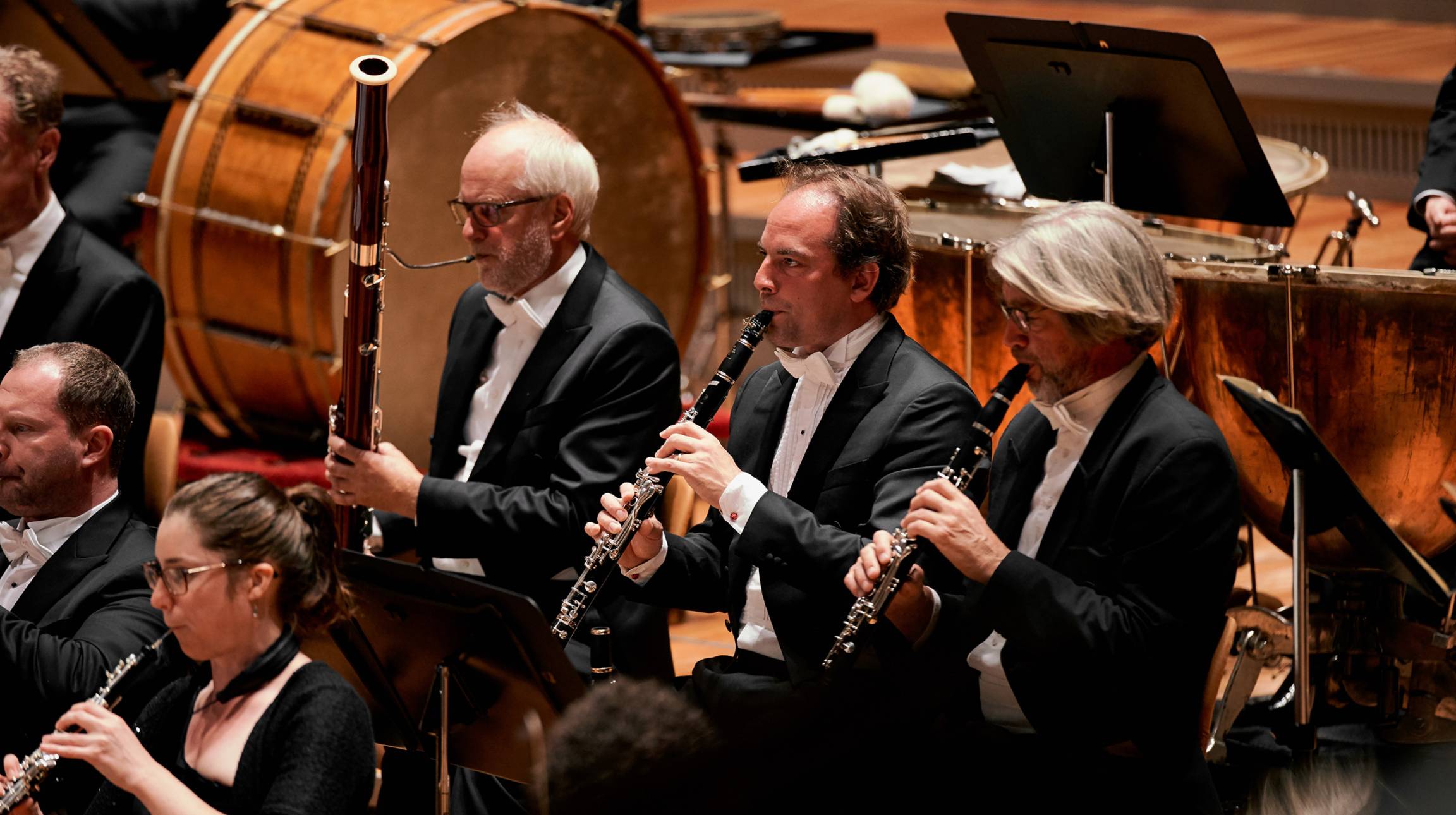 'In this orchestra, I hear everyone around me taking risks – playing softer, faster or slower than you could think possible. And that takes the courage to overcome your greatest enemy: not being afraid to make mistakes. It's only with the trust of those around you that you can be free to test those limits. And it's that trust which I always feel here.'
- Johan van Iersel, assistant principal cellist
A distinctive sound
The Concertgebouworkest's distinct, individual sound is inextricably linked with the Main Hall of the Concertgebouw. Since its foundation in 1888, this beautiful 'sounding box', like that of a string instrument, has formed the basis for the development of the orchestra's own individual sound in rehearsals and concerts.
The acoustics particular to the hall don't make it easy for the orchestral players, though. In order to hear each other on stage, they have to listen to one another very closely, as if they were playing chamber music. The orchestra's unique sound – both homogeneous and transparent at the same time – is the result.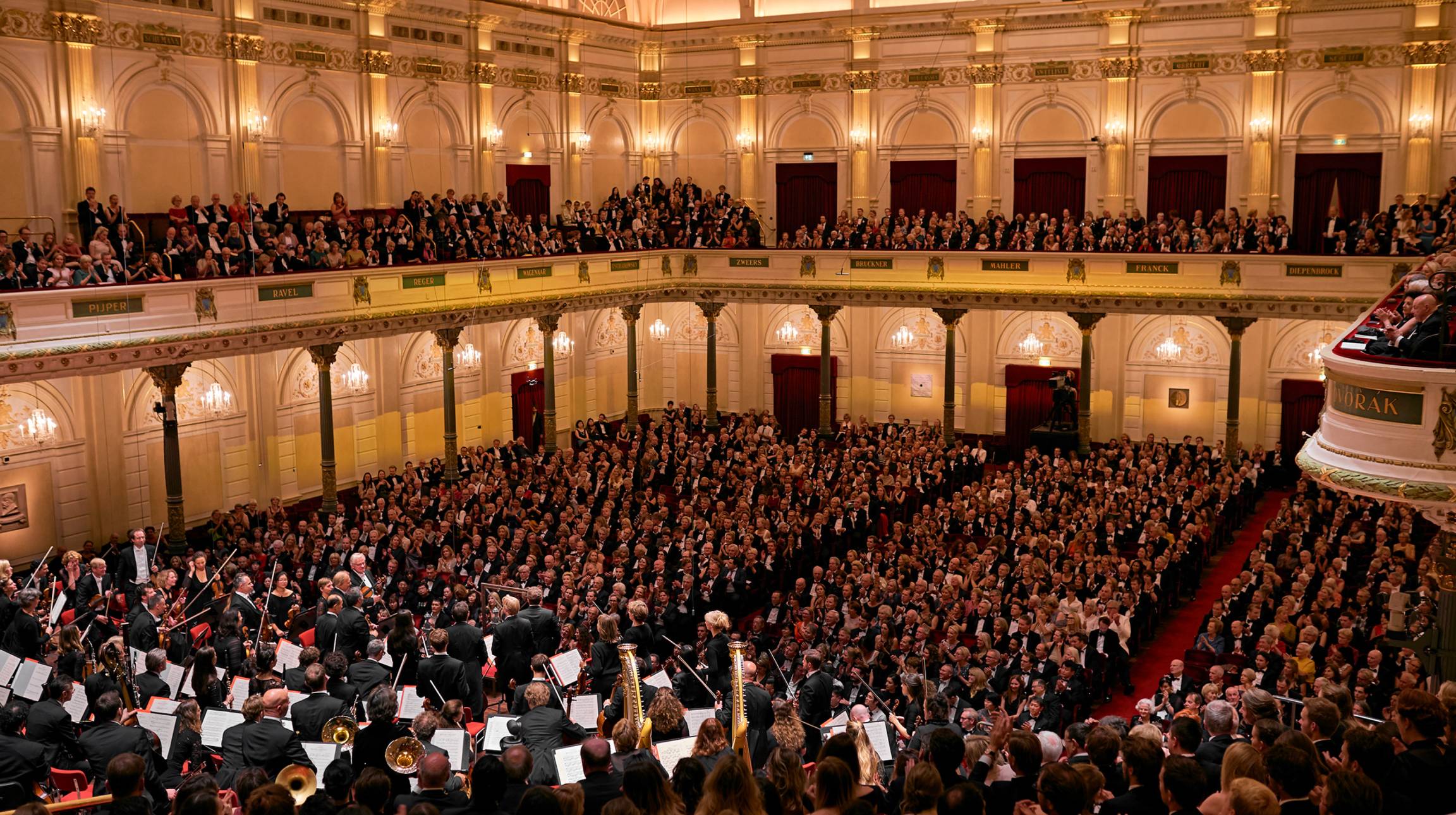 Shaping the repertoire
The Concertgebouworkest is known the world over for its performances of the music of Mahler and Bruckner. It also upholds a number of concert traditions around Easter and Christmas with its Passion performance and the Christmas Matinee.
The orchestra has had only seven chief conductors to date. On 10 June 2022 it was announced that Klaus Mäkelä has been appointed artistic partner with effect from the 2022-23 season and will be the eighth chief conductor as from 2027.
The Concertgebouw Orchestra's chief conductors each shaped the development of the orchestra's repertoire in their own way.
From 1895 and 1945, Willem Mengelberg established the Dutch Passion tradition with his annual performances of Bach's St Matthew Passion.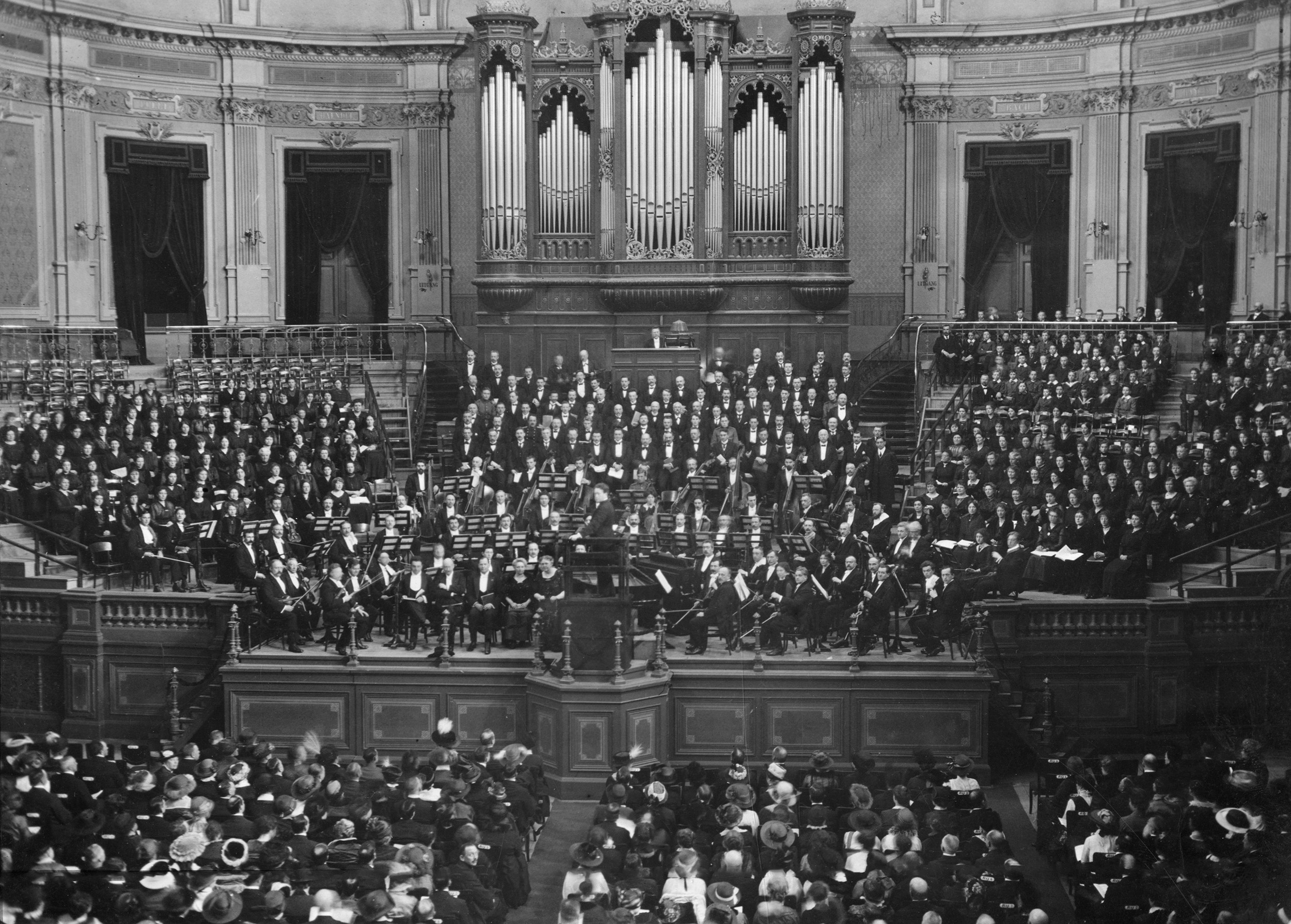 Eduard van Beinum was largely responsible for the acceptance of Anton Bruckner's œuvre – not just as part of the Concertgebouworkest's own repertoire, but also throughout the world.
Bernard Haitink would garner international acclaim with legendary Mahler recordings and internationally televised Christmas Matinees.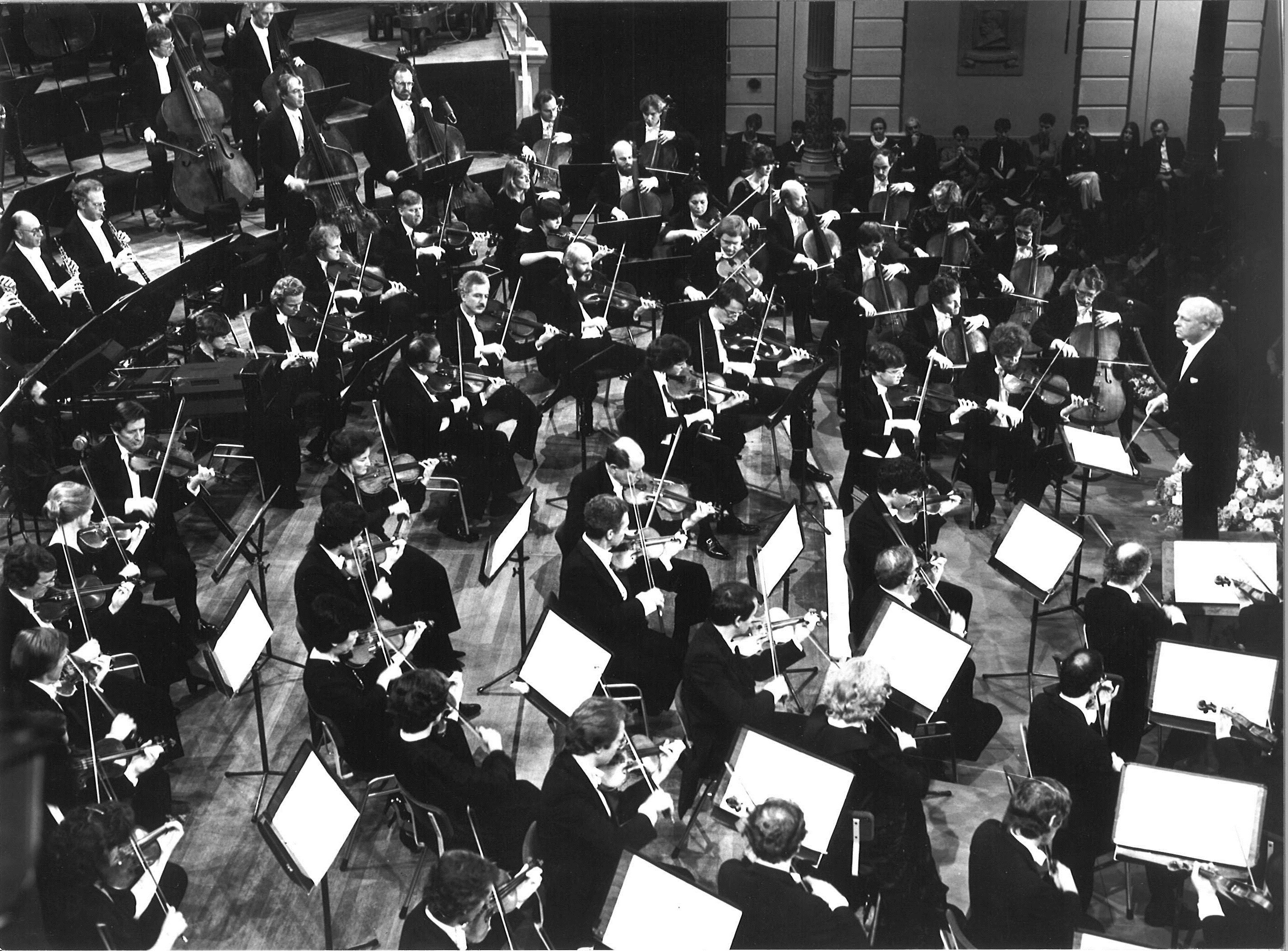 Riccardo Chailly led the orchestra in much opera and contemporary music.

Mariss Jansons focused on major twentieth-century composers like Shostakovich and Messiaen.
Daniele Gatti enriched the orchestra's symphonic tradition with French repertoire and music from the Second Viennese School.
Close collaboration with world-renowned guest conductors and specialists also contributes to the orchestra's sound and breadth of repertoire. Under the baton of Nikolaus Harnoncourt, for instance, the orchestra established a growing reputation for eighteenth-century repertoire, a tradition that it continues with Trevor Pinnock and honorary guest conductor Iván Fischer.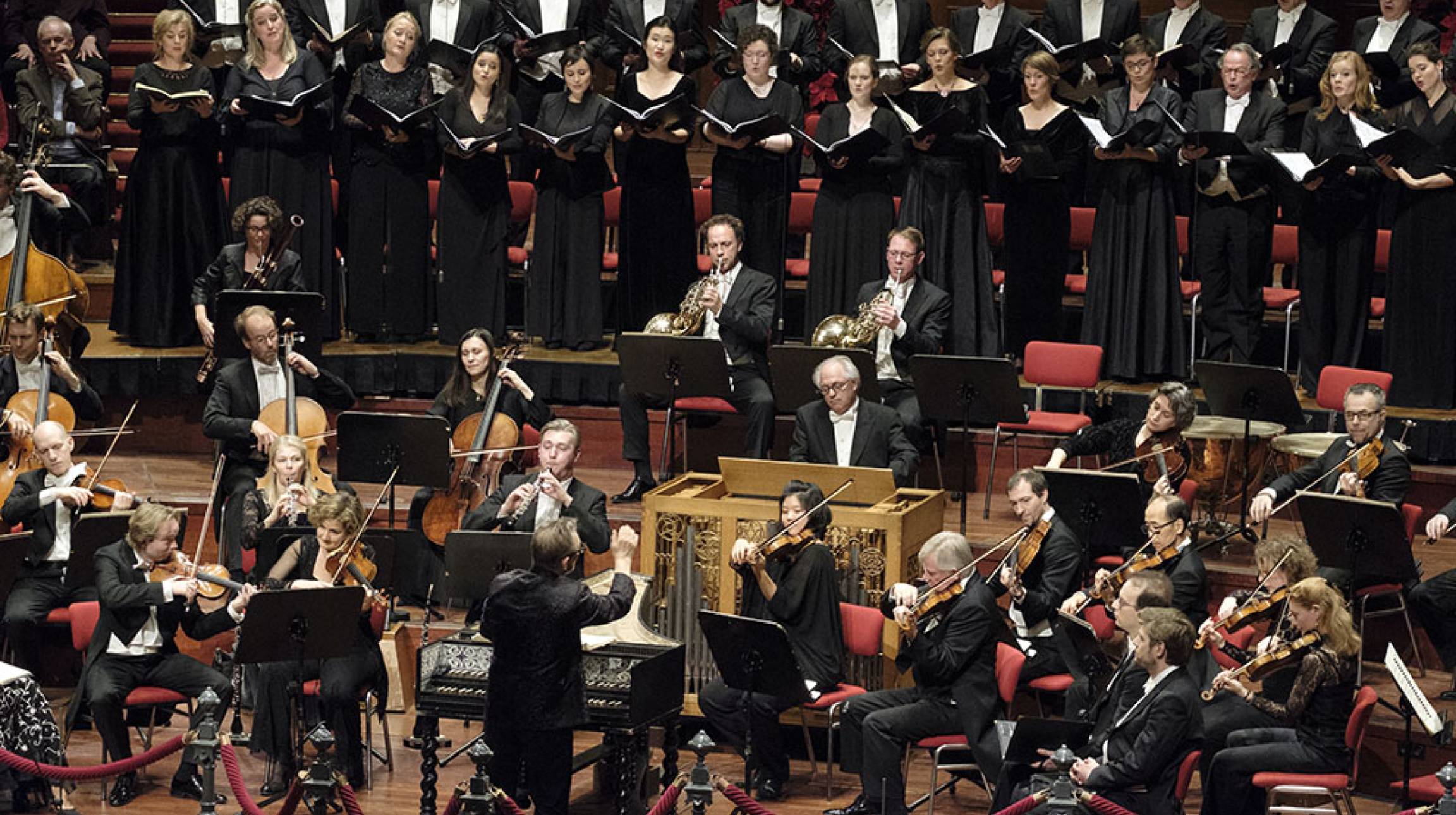 130 years of contemporary repertoire
During his tenure as chief conductor, Willem Mengelberg enriched the repertoire with works by living composers. Music which audiences were initially not necessarily that receptive to would go on to be incorporated in the orchestra's core repertoire. Mengelberg's personal relationships with Mahler, Richard Strauss, Rachmaninoff and Stravinsky resulted in close ties being established between the Concertgebouworkest and these illustrious composers. Strauss, for example, would dedicate Ein Heldenleben to Mengelberg and the orchestra in 1898.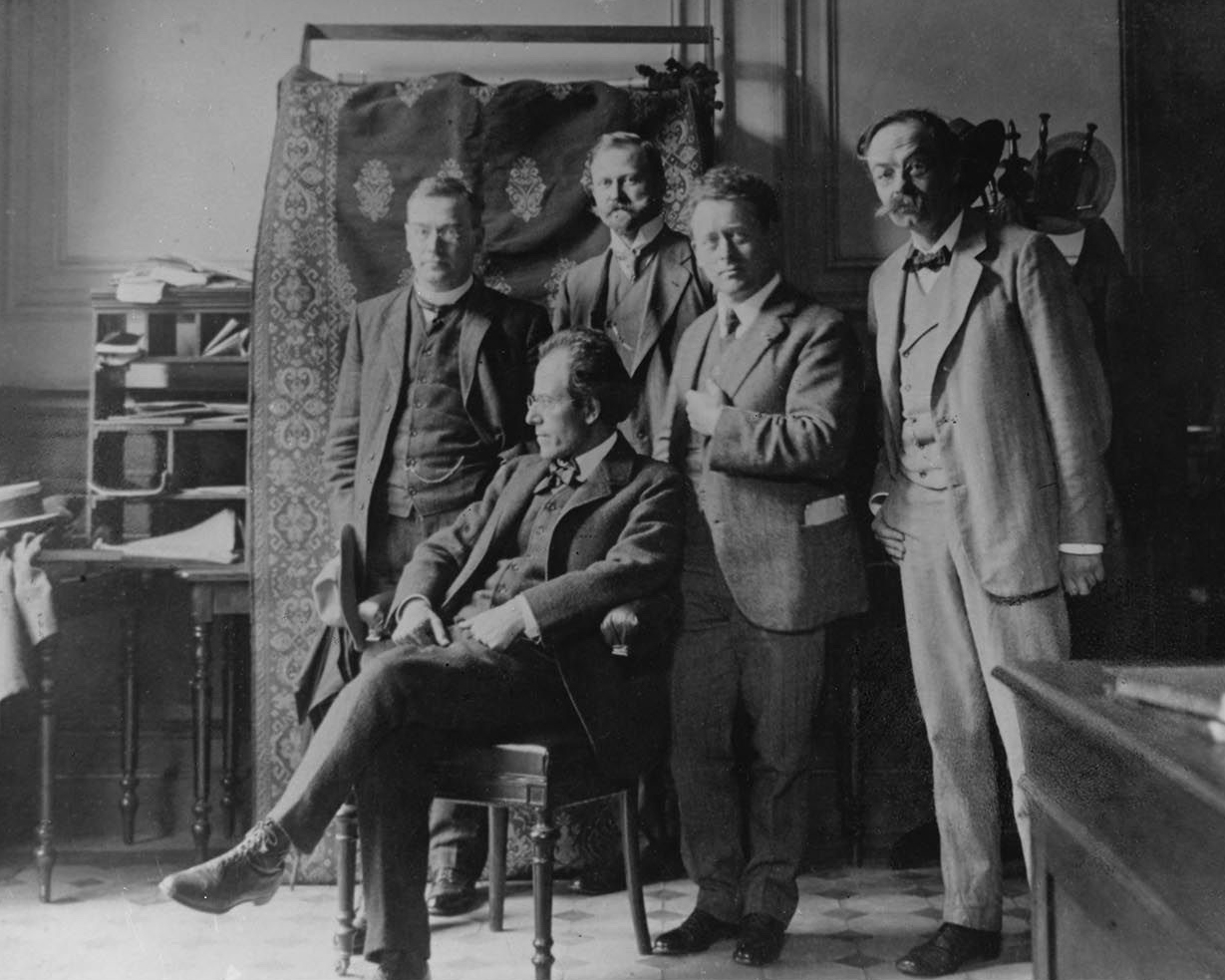 In addition to Strauss and Mahler, such composers as Schoenberg, Debussy, Stravinsky, Ravel and Milhaud also conducted the Concertgebouworkest. The tradition is very much alive and well today, too, with contemporary composers regularly leading the orchestra in their own compositions. In recent years, John Adams, Thomas Adès, George Benjamin and Tan Dun have followed in the footsteps of such composer–conductors as Bruno Maderna, Witold Lutosławski, Otto Ketting, Luciano Berio, Pierre Boulez and Hans Werner Henze.
World premieres, Dutch premieres and commissioned works since 2009
World premieres
2020/2021
28 May 2021, Rick van Veldhuizen mais le corps taché d'ombres *
23 April 2021, Detlev Glanert Der Einslideler *
6 December 2020, Bram Kortekaas Notenkrakers' notulen *
6 December 2020, Celia Swart Reflections *
9 October 2020, Christiaan Richter 2270 *
24 September 2020, Unsuk Chin subito con forza *
24 September 2020, Jummy López Bellido Boek IV uit 'The Travails of Persiles and Sigismunda'
23 August 2020, Jacob ter Veldhuis WHO, WHAT, WHERE, WHEN, WHY *
2019/2020
28 August 2019, Detlev Glanert Idyllium (opdracht Concertgebouworkest Young)
9 January 2020, Martijn Padding Softly Bouncing
31 January 2020, Theo Verbey Ariadne *
8 March 2020, Wolfgang Rihm Sostenuto *
2018/2019
17 January 2019, Christiaan Richter Wendingen *
4 April 2019, Nico Muhly new music theater production Death in Venice *
9 May 2019, Michel van der Aa Double Concerto for violin and cello *
26 June 2019, Spinvis Amusement *
2017/2018
7 October 2017, Rozalie Hirs Parallel worlds (commissioned by Universiteit van Amsterdam)
19 October 2017, Peter Eötvös MULTIVERSUM *
6 December 2017, Erkki-Sven Tüür Piccolo Concerto Solastalgia *
12 April 2018, Guillaume Connesson Eiréné *
2016/2017
22 September 2016, Mayte Martín/Florian Magnus Maier bewerking lied *
4 November 2016, Detlev Glanert Requiem voor Jheronimus Bosch *
1 February 2017, Bram Kortekaas Leonard Bernstein, Security Matter – C *
2 February 2017, Richard Rijnvos Amérique de Nord *
8 February 2017, Joey Roukens Boundless (Hommage to L.B) *
7 April 2017, Djuro Zivkovic The Mystical Sacrifice *
7 April 2017, Franghiz Ali-Zadeh Nasimi Passion *
20 April 2017, James MacMillan Trombone Concerto *
26 April 2017, Patrick Watson/Jules Buckley arrangements songs *
11 May 2017, Ryan Wigglesworth Clocks from A Winter's Tale *
2015/2016
22 November 2015, Nick Woud Pepernoten voor groot orkest *
6 January 2016, Genevieve Murphy Say the Color (commission Van Gogh Museum)
26 April 2016, Benjamin Clementine/Jules Buckley arrangements songs *
26 April 2016, Benjamin Clementine orchestration Jules Buckley Bonne chance mes enfants *
16 June 2016, Ryan Lott The Swift And The Storm (commission Holland Festival)
2014/2015
6 November 2014, Michel van der Aa Violin Concerto *
29 January 2015, Tan Dun Wolf *
19 March 2015, Martijn Padding Ick segh adieu *
12 June 2015, Richard Rijnvos fuoco e fumo *
25 September 2015, George Benjamin Dream of the Song *
2013/2014
12 September 2013, Fons Merkies Elevator Sequence *
12 September 2013, Vincent van Warmerdam Louisiana Story *
12 September 2013, Joey Roukens Chase *
3 November 2013, Louis Andriessen Mysteriën (commission Concertgebouw)
23 January 2014, Detlev Glanert Frenesia *
13 March 2014, Kris Defoort Human Voices Only (commission deBuren)
2012/2013
14 December 2012, Mayke Nas Down the Rabbit-Hole *
17 January 2013, Magnus Lindberg Era
17 January 2013, Willem Jeths Clamavi *
10 April 2013, Bob Zimmerman Variaties op 'Komt vrienden in het ronden' *
29 April 2013, José James/Jules Buckley arrangements songs *
30 April 2013, Armin van Buuren/Tom Trapp Intense *
2011/2012
26 January 2012, Debussy/Bart Visman Images oubliées *
26 January 2012, Klaas de Vries Providence *
13 April 2012, James MacMillan Hodie puer nascitur *
29 April 2012, Fink (Fin Greenall)/Jules Buckley arrangements songs *
22 June 2012, Richard Rijnvos Antarctique *
22 June 2012, Kaija Saariaho Circle Map *
2010/2011
9 October 2010, Willem Jeths Scale *
24 March 2011, Joey Roukens Out of Control *
29 March 2011, Patrick Watson/Jules Buckley arrangements diverse songs *
2009/2010
22 January 2009, Otto Ketting Trajecten *
19 March 2009, Michel van der Aa Spaces of Blank *
12 November 2009, Mahler/Colin Matthews 'Nicht zu schnell' from Piano Quartet *
12 November 2009, Geert van Keulen Fünf tragische Lieder
18 June 2010, Rodion Sjtsjedrin Oboe Concerto *
Dutch premieres
2019/2020
11 October 2019, John Barry la Plus forte opera
11 October 2019, Thomas Adès Suite uit 'Powder Her Face'
16 January 2020, Dean Dramatis Personae
2018/2019
18 October 2018, Karim Al-Zand Lamentations on the Disasters of War
24 October 2018, Alexander Zemlinsky Lustspiel-Ouvertüre
24 October 2018, Blai Soler Sol
20 March 2019, Lotta Wennäkoski Flute Concerto Soie
10 May 2019, Peter Eötvös Alla vittime senza nome
14 June 2019, Harrison Birtwistle Sweet Disorder… Piano Concerto
19 June 2019, Detlev Glanert Weites Land
2017/2018
23 June 2017, György Kurtág Petite musique solennelle
29 September 2017, Anders Hillborg Bach Materia
1 February 2018, Matthias Pintscher Violin Concerto Mar'eh
1 February 2018, Noriko Baba Hagoromo suite and L'oiseau à deux têtes
14 March 2018, Jörg Widmann Babylon-Suite *
15 June 2018, Krzysztof Penderecki Ciaccona
2015/2016
25 September 2015, Julyan Anderson Eden
15 October 2015, John Adams Scheherazade.2 *
3 December 2015, James MacMillan Piano Concerto No. 3
15 January 2016, Gerard Schurmann delen uit Six Studies of Francis Bacon
14 April 2016, Thomas Adès Totentanz
16 June 2016, Andrew Norman Unstuck
22 September 2016, Mauricio Sotelo Muros de dolor ... III
12 October 2016, HK Gruber Aerial
2014/2015
12 December 2014, Luc Brewaeys Symphony No. 6
29 January 2015, Tan Dun Nu Shu *
2013/2014
13 September 2014, Elisabeth Lutyens Suite uit 'The Skull'
23 January 2014, Anders Hillborg Klarinetconcert 'Peacock Tales'
6 February 2014, Magnus Lindberg Piano Conerto No. 2 *
20 June 2014, Helen Grime Everyone Sang
2012/2013
13 September 2012, Tristan Murail Le désenchantement du monde *
3 October 2012, Mark-Anthony Turnage From the Wreckage
11 October 2012, Jörg Widmann Teufel Amor
14 December 2012, Frédéric Devreese Piano Concerto No. 4
14 December 2012, Luc Brewaeys Along the Shores of Lorn
17 April 2013, Hans Werner Henze Elogium Musicum
26 April 2013, John Harbison Remembering Gatsby
5 June 2013, Esteban Benzecry Colores de la Cruz del Sur
5 June 2013, Peter Lieberson Neruda Songs
13 June 2013, Heinz Holliger Ardeur noire
13 June 2013, Bernd Alois Zimmermann Alagoana
2011/2012
15 December 2011, Detlev Glanert Insomnium *
13 April 2012, Harrison Birtwistle Machaut à ma Manière
13 April 2012, Charles Wuorinen Machaut mon chou
4 July 2012, Ahmet Adnan Saygun Suite op. 14
2010/2011
23 September 2010, Tristan Murail Terre d'ombre
9 March 2011, Hans Werner Henze Adagio, Fuge und Mänandentanz uit 'Die Bassariden'
17 March 2011, Mark-Anthony Turnage Texan Tenebrae *
17 June 2011, Thomas Adès Violin Concerto 'Concentric Paths'
17 June 2011, Thomas Adès Polaris *
22 June 2011, Hiba Al Kawas Moments in Krakow
22 June 2011, Fazil Say Alla Turca Jazz (toegift)
2009/2010
25 September 2009, Erkki-Sven Tüür Aditus
15 October 2009, Tan Dun Four Secret Roads to Marco Polo
15 October 2009, Tan Dun Piano Concerto 'The Fire'
21 January 2010, Magnus Lindberg Violin Concerto
11 March 2010, Thomas Adès Overture, Waltz and Finale from 'Powder Her Face'
9 April 2010, Anton Bruckner Symphonisches Präludium
9 April 2010, Detlev Glanert Fluss ohne Ufer *
3 June 2010, George Benjamin Duet
18 June 2010, Luciano Berio '4 Dédicaces'
2008/2009
11 December 2008, Esa-Pekka Salonen Piano Concerto
3 April 2009, James MacMillan St John Passion *
19 June 2009, Fazil Say Silence of Anatolia
* commissioned by the Concertgebouworkest
Collaborating with composer–conductors
1934 - Richard Strauss conducts a rehearsal of his opera Arabella

1937 - Igor Stravinsky and Willem Mengelberg during a rehearsal of Jeu de Carte (photo: NMI)

1937 - Igor Stravinsky, Willem Mengelberg and on the right the German conductor Hans Swarowsky (photo: NMI)

2015 - John Adams conducts his Doctor Atomic Symphony (photo: Renske Vrolijk)

2016 - Thomas Adès rehearses his composition These premises are alarmed (photo: Renske Vrolijk)

2015 - Tan Dun conducts his double bass concerto The Wolf, written for Dominic Seldis and the Concertgebouworkest (photo: Renske Vrolijk)

2019 - George Benjamin conducts his work Dream of the Song (photo: Milagro Elstak)
The Concertgebouworkest in facts and figures
The Concertgebouworkest was founded in 1888.
'Royal' status was officially conferred on the orchestra on the occasion of its Centenary Celebration in 1988.
Each season, the orchestra performs 120 concerts at leading concert halls throughout the world.
The orchestra performs for 250,000 concertgoers each season. Videos, concert streams, and radio and television broadcasts in collaboration with AVROTROS, Mezzo TV and Unitel Classica expand its reach exponentially.
Established in 2004, Concertgebouworkest Live is the orchestra's own in-house label.
The orchestra has made over 1,100 LP, CD and DVD recordings to date, many of which have won international distinctions.
The orchestra celebrated its 125th anniversary in 2013 with a world tour of six continents.
The Concertgebouworkest Academy moulds young, talented musicians into successful orchestral players.
Every year, Concertgebouworkest Young brings together over seventy talented young people aged fourteen to eighteen from all over Europe.
The orchestra focuses on children and youngsters with its educational apps, Family Concerts and collaborations with schools.
From 2016 to 2018, the Concertgebouworkest gave performances in all twenty-eight member states of the European Union as part of its RCO meets Europe initiative. In each country it visited, the orchestra performed one work with a youth orchestra from that country (Side by Side).
Her Majesty Queen Máxima is the orchestra's patron.
The Concertgebouworkest is orchestra in residence at BOZAR in Brussels.
The Concertgebouworkest is co-funded by the Dutch Ministry of Education, Culture and Science, the Municipality of Amsterdam, sponsors, funds and numerous donors all over the world.
The largest portion of the orchestra's income is generated by proceeds from the concerts it gives in and outside the Netherlands.