MADE IN AMERICA - Leila Josefowicz's commitment to contemporary music is one of the characteristics that define her as an artist. It was John Adams's Violin Concerto in particular which put her career on a different track. This month, the violinist is performing the work with the Concertgebouw Orchestra.
The composer John Adams says his 1993 Violin Concerto has developed into Leila Josefowicz's own 'personal calling card'. Perhaps one could also say that, conversely, Josefowicz can be seen as the personal calling card of John Adams's work. The violinist, for her part, prefers to put it even more forcefully: 'This piece turned my entire existence upside down.'
Born near Toronto, Josefowicz moved to Los Angeles with her parents when she was just a toddler. There, she started taking violin lessons, stunning her teachers with skills she developed at lightning speed. At the age of ten, she performed Wieniawski's phenomenally difficult Scherzo-tarantelle with orchestra at the inauguration of the new Bob Hope Cultural Center, with Lucille Ball, who was presenting the televised event, introducing 'Leila's sensational playing' and then-president Ronald Regan in attendance. Leila's Los Angeles Philharmonic debut was a sensation, critics claiming to have witnessed an 'inexplicable creature' (she was twelve and performed Vieuxtemps's Violin Concerto No. 5). Recordings of the performance can still be found on YouTube. Leila wears a ribbon in her hair and a little girl's floral dress, her face often a concentrated scowl. Josefowicz thinks back on the performance somewhat glumly now, saying, 'It wasn't all my own choice.'
An all-important meeting
After moving to Philadelphia, where she studied at the Curtis Institute, she made her debut at sixteen at New York's Carnegie Hall performing the Tchaikovsky Violin Concerto. She was promptly launched with the same work by the Philips label, which made meticulous note of her reaction to all this ('Wow!'), dispatching it to record magazines the world over. 'I often had no idea what was actually happening around me,' Josefowicz now says.
Among the things that did happen around that time, in the early 1990s, was the premiere of John Adams's Violin Concerto with Jorja Fleezanis and the Minnesota Orchestra conducted by Edo de Waart, who had long pressed for the work. Completed after a year of doubts about 'what was for me the very unusual problem of a bow and a left hand turned upside down', as the composer called it, Adams's Violin Concerto quickly established a reputation for itself as a masterpiece among the violin concertos of the twentieth century.
Just like that, Leila Josefowicz's musical existence changed. 'When I heard the Adams Violin Concerto for the first time, I was sold,' she says. 'But what did I hear, actually? I didn't even know that the score called for synthesisers in the orchestra. The only thing I knew was that the work was spellbinding. I wanted to play it. This was what other people didn't expect from me. I had been so moulded by people who were always drumming into me what I should play, what dress I should wear, what I should say.'
'This piece turned my entire existence upside down'
Leila's management, an international firm with divisions all over the world, saw nothing in Adams. 'They said, "This kind of piece will get you two concerts at the most for every invitation. You should be playing violin concertos that you can perform in series of five." Their interest was in the money a booking brought in.' The job of a 'serious violin babe' in those days (and there were quite a few of them, including Sarah Chang at EMI and Midori at Sony Classical) was to perform standard repertoire. All the same, Leila's management apparently had no problem with her doing perfume advertisements for Chanel. It was a strategy she felt increasingly insecure about: 'It's not that I didn't enjoy the classics. But there was something missing in terms of my existence as a musician. Any piece in the repertoire that didn't sound traditional was suspect.' She persisted and performed the Adams – in Seattle. The composer even came, all the way from California. 'The fact that he came so far to hear me play it made me dizzy.'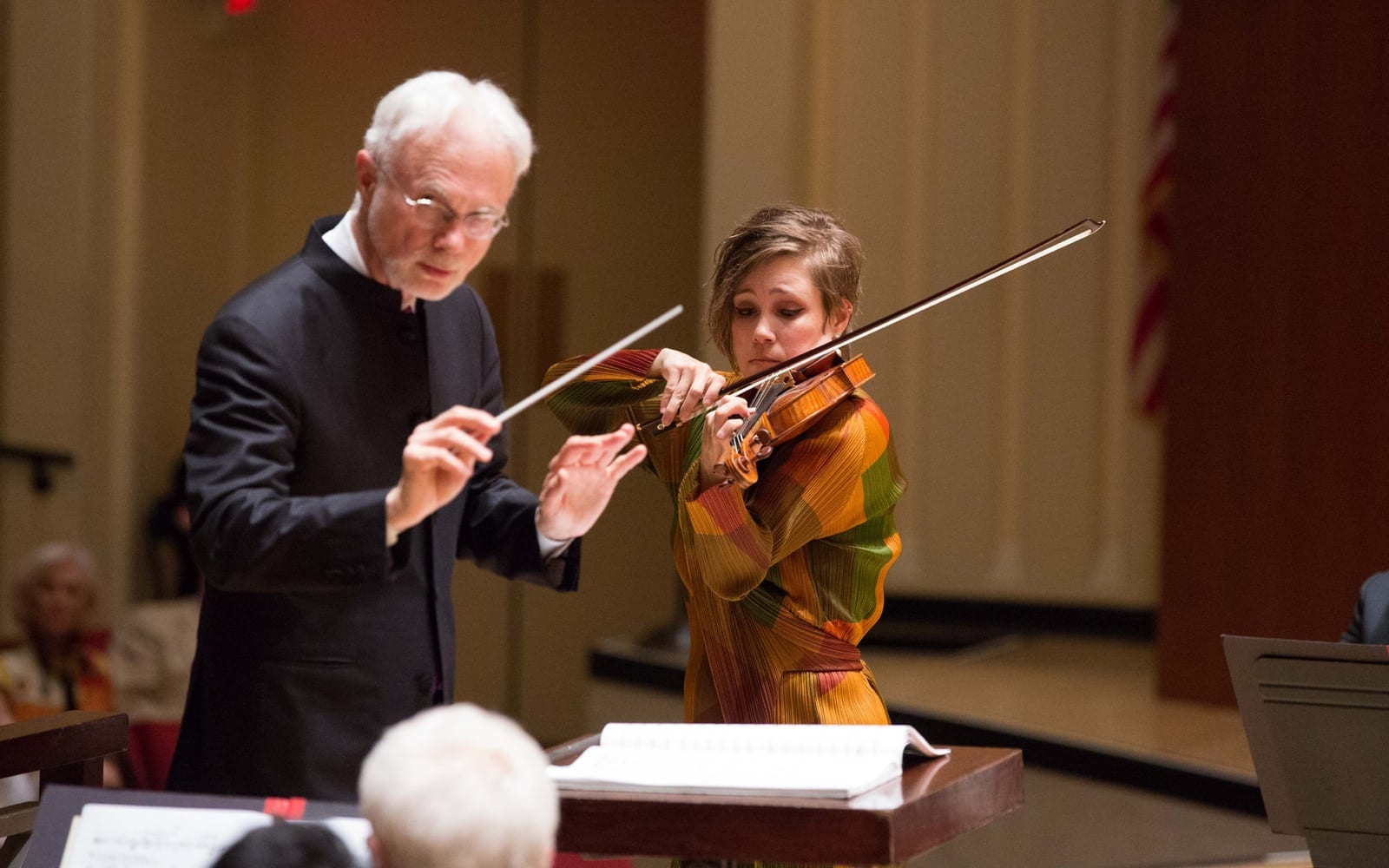 A shared defiance
The meeting kicked off a series of performances by Josefowicz with Adams conducting, often as part of Adams specials and Adams events as they were increasingly programmed by his admirers around the globe. 'We've performed this concerto together easily over one hundred times,' says Josefowicz. 'It's made me a different person.'
She says the two clicked not simply because of their shared background as Californians. 'He saw my defiance – "please don't dictate to me who I am any more." And I, too, realised that he's a rule breaker, that he had broken free from the twelve-tone music forced on him at Harvard. And later from minimalist music, when that, too, had become a dead end.'
Adams has praised the 'razor-like sharpness' with which Josefowicz makes her mark in the devilish final movement and the 'long breath' of her poetic lines in the opening. She says, 'I've learned an awful lot from Adams and from that piece. And for Scheherazade.2 for violin and orchestra, which he wrote later, I think he must have noticed what I do when I play really rhythmically.'
There's certainly no lack of rhythm in Adams's music. The violin line in the opening movement is supported by a walking bass in the orchestra which Josefowicz finds 'extremely uplifting'. She says, 'You can hear Coltrane in it.' The intriguing Misterioso of the middle movement, coloured by synthesisers dating from the dawn of the sampler electronics era, resounds above an old chaconne – the one and only Pachelbel canon. Adams came across this canon in the New Grove Dictionary of Music and Musicians and lifted the bass motif in the opening movement from Slonimsky's Thesaurus of Scales and Melodic Patterns (as he once candidly stated). Josefowicz says she considers these borrowings 'indicative of genius': 'He comes across something and instantly has a sense as to whether it can be of value to him. Then he moulds it, puts a twist on it and builds bridges to his listeners. And whether you hear Stravinsky or Coltrane or Ravel in his music, you can never quite pinpoint it exactly, if only because of that unique rhythmic energy.'
Made in America
'American music is like the Wild West,' says Josefowicz. 'It's populated by some incredibly inventive minds, most of whom had a European-style education and then went off and hatched something on their own. They're like pioneers, just as people here have ventured into unknown territory over and over again. Traditions come from Europe. And then America bursts out of them once more. With jazz, minimalist music, white, black. You see something appear, and then something new evolves. Without taking Europe out of the equation.'
'Traditions come from Europe. And then America bursts out of them once more.'
So can John Adams be labelled the most 'American' of all American composers? 'There's no single definition or description of American music,' says Josefowicz. 'That's the exciting thing about it. It's not a one-size-fits-all thing. I personally listen to music by people whose personalities speak to me. I'm very much into Michael Torke at the moment, an American who really has something to offer. And there's Matthias Pintscher, a European who now lives in New York, like me. Oliver Knussen, an English composer to whom I owe a lot, wrote for me. And Thomas Adès. Luca Francesconi. My ideal is to bring America to Europe and Europe to America.'
The Colburn School in Los Angeles, the Curtis Institute on the East Coast – not for nothing has Leila Josefowicz seen her own version of 'Europe in America' through. She says, 'Being straitjacketed was extremely depressing, straitjacketed by everything old-fashioned. So you end up fighting your way out of it. You take your own path. But it was a fantastic education, of course, the "grand works". Everything I learned from them I can use for the next thing.'
Roland de Beer
This article was previously published in Preludium.


Leila Josefowicz and John Adams are performing with the Concertgebouw Orchestra. (photo: Renske Vrolijk)

Leila Josefowicz and John Adams are performing with the Concertgebouw Orchestra. (photo: Renske Vrolijk)

Leila Josefowicz and John Adams are performing with the Concertgebouw Orchestra. (photo: Renske Vrolijk)