Arthur Honeggers Jeanne d´Arc au bûcher
CD - Jeanne d'Arc au bûcher is one of the most inventive oratorios ever composed, constantly flitting between styles and colours. It follows the historic French heroine in the hours leading up to her execution.
Order, download and listen
Indeed, the run-up to her death sentence is reconstructed as if in a crime novel. Paul Claudel's lively libretto contrasts Jeanne with an assorted lot of strange and wonderful characters. More than enough reason for Honegger to open up a colourful paintbox: the work features a succession of choral passages infused with spirituality, cubist-like blocks of sound and even bits of material reminiscent of the music hall. This is grist to conductor Stéphane Denève's mill, who is a leading authority on French music and a regular guest with the Royal Concertgebouw Orchestra; together with two choirs and a variety of soloists and actors, he realized a compelling and moving Jeanne d'Arc au bûcher.
Performers
Royal Concertgebouw Orchestra
Stéphane Denève, conductor
Judith Chemla (Jeanne d'Arc)
Jean-Claude Drouot (Frère Dominique)
Christian Gonon (récitant)
Adrien Gamba-Gontard (récitant)
Claire de Sévigné, soprano
Christine Goerke, soprano
Judit Kutasi, mezzo-soprano
Jean-Noël Briend, tenor
Steven Humes, bass
Rotterdam Symphony Chorus
Wiecher Mandemaker, chorus master
Netherlands Children's Choir
Wilma ten Wolde, chorus master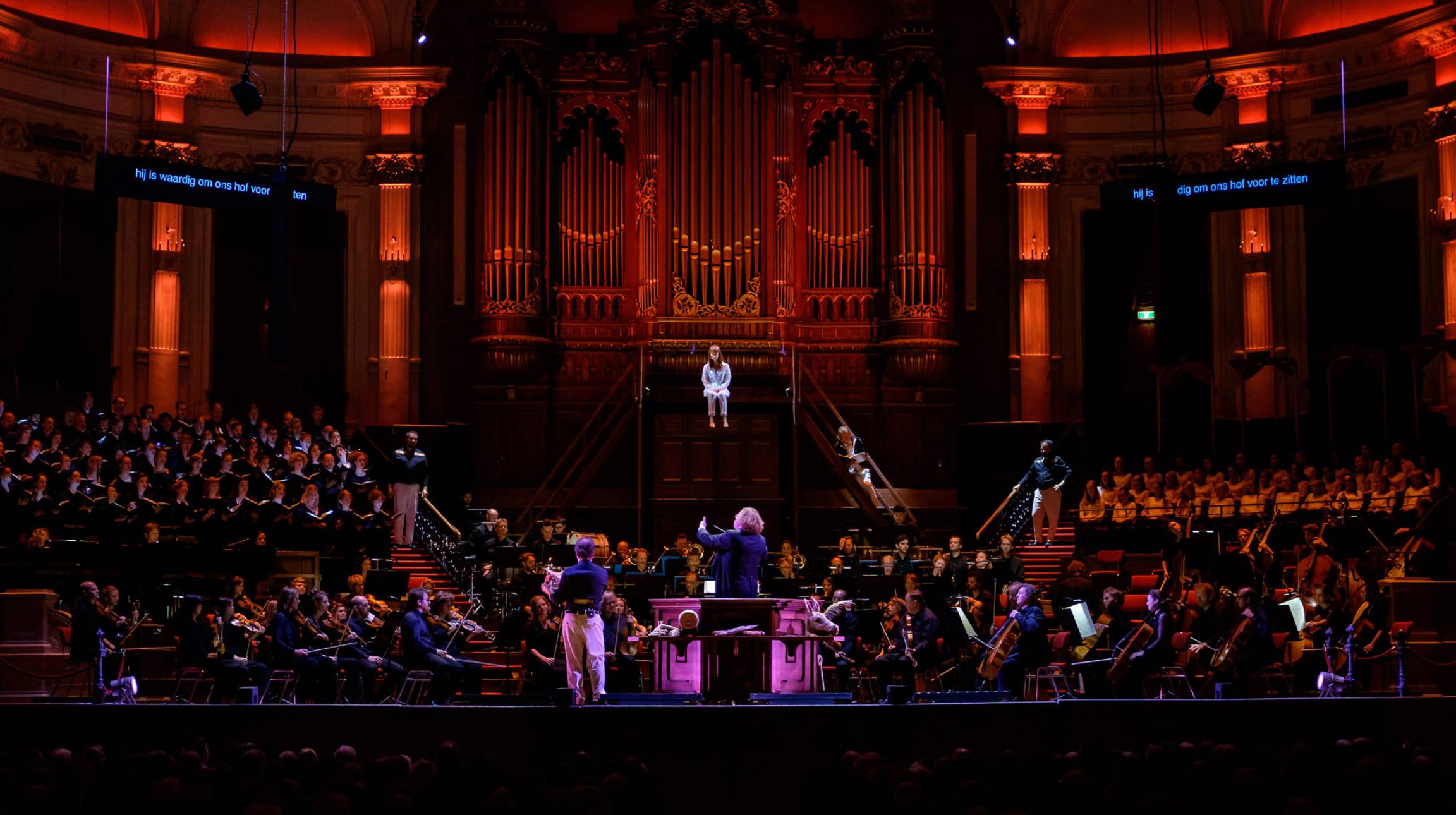 Press quotes
'Unforgettable Jeanne d'Arc'
- Erik Voermans, Parool
'An inspiring Jeanne d'Arc'
- Martin Toet, Place de l'Opera
'An intense Jeanne d'Arc au bûcher from the Royal Concertgebouw Orchestra.' *****
- Jenny Camilleri, Bachtrack
| | | |
| --- | --- | --- |
| 01. | Prologue | 7:36 |
| 02. | Scène I. Les Voix du Ciel | 2:10 |
| 03. | Scène II. Le Livre | 3:39 |
| 04. | Scène III. Les Voix de la Terre | 4:11 |
| 05. | Scène IV. Jeanne livrée aux bêtes | 9:21 |
| 06. | Scène V. Jeanne au poteau | 3:29 |
| 07. | Scène V. Jeanne au poteau | 5:13 |
| 08. | Scène VII. Catherine et Marguerite | 3:16 |
| 09. | Scène VIII. Le Roi qui va-t-à-Rheims | 11:26 |
| 10. | Scène IX. L'Épée de Jeanne | 15:49 |
| 11. | Scène X. Trimazô | 0:51 |
| 12. | Scène XI. Jeanne d'Arc en flammes | 12:09 |
| | Total playing time | 79:16 |
Live recording, 27 & 28 September 2018, Concertgebouw Amsterdam