INTERVIEW - Since being blown away by their first encounter with the Concertgebouworkest, the Parisian couple Constance and Jean-Marc de Royère have joined the orchestra's Global Friends.
Constance and Jean-Marc de Royère were expats up until September 2019, having lived outside France for many years – first in Tokyo, then in Frankfurt. The French couple returned to their home base Paris six months ago. It's not yet clear for how long, though. The duration of their stint there will largely depend on Jean-Marc's work as senior vice-president of Air Liquide, a 'world leader in industrial gases, technologies and services'.
It was love at first hearing
It was during their stay in Germany that Constance and Jean-Marc first became acquainted with the Concertgebouworkest, and it's no exaggeration to say it was love at first hearing. Constance, who remembers it like it was yesterday, says, 'It was February 2016, and the orchestra was performing at the Alte Opera in Frankfurt with pianist Kirill Gerstein. Semyon Bychkov conducted, and the programme included Serge Rachmaninoff's Third Piano Concerto and Richard Strauss's Ein Heldenleben.
'In a word, it was sublime. I was completely blown away. And it just so happened that Jean-Marc attended a fascinating presentation given by the double bassist Dominic Seldis the next morning. He talked about his own experiences and his musical career with the Concertgebouworkest. I was unable to attend, but Jean-Marc said it was very interesting and found Dominic's enthusiasm infectious. All in all, the concert and presentation were the perfect introduction to the orchestra for us. Then in September 2016, we travelled to Amsterdam for Opening Night, and it was there that we decided to join Global Friends. We wanted to support this fantastic orchestra no matter what.'
Pinnacle
Constance uses a French expression to describe attending a Concertgebouworkest concert at the Concertgebouw – a point d'orgue. She explains that it means the pinnacle or high point of something, but it also has a literal meaning as the French musical term for 'fermata'. In musical scores, the fermata is placed high above the staff, which is where the term gets its figurative meaning.
It's not just the musical magic of the orchestra which the couple find so appealing – it's also and above all the diversity it embodies. 'I don't remember the exact number,' Constance says, 'but I believe there are over twenty nationalities in the orchestra. Thanks to the time we spent in Japan and Germany, I've been lucky enough to meet people from different cultures. I'm French and love France, but I've had a wonderful opportunity to learn to appreciate diversity.
Young gives a unique chance to talented young people from areas where a good musical education isn't exactly a given.
'There's so much talent in the world. And that's why we feel that Concertgebouworkest Young is so important. When we paid a visit to the Concertgebouworkest last year at its beautiful new premises, I suddenly realised how important it is for the orchestra to engage with and cultivate new generations. Young gives a unique chance to talented young people from areas where a good musical education isn't exactly a given. I do wonder how on earth it's possible to discover the potential of a group of fifteen-year-olds? Which one has it? Which one doesn't? The idea that you can gauge that is simply beyond me.'
Constance says she greatly regrets never having learned to play an instrument herself, since she can't imagine anything more wonderful. 'It's something I can only dream about,' she admits. 'I'd love to be able to play the cello in an orchestra, right in the middle of all the music. For me as a listener, just hearing the musicians playing as one with the conductor at the centre is an extraordinary experience.'
Practically palpable
This spring, Constance says she experienced music as practically palpable. She now works as a committee member for Global Friends, having started out in her own living room in Frankfurt. She says, 'I was so proud of my role! I mean, hosting a string trio in your own home is really quite something. All three were players in the orchestra – they were wonderful, and it was a fabulous evening. We learned a lot about the musicians, and the atmosphere was friendly and relaxed. For us, the Concertgebouworkest represents the very best in music, so our aim was to raise awareness of its Global Friends in Frankfurt in the same way.'
So are the de Royères on a mission? Constance says she believes they are: 'Music is so important – if more people made music, I feel certain the world would be a much better place. That's exactly why we support Young. Music is a balm for the soul – or as we say in French, la musique adoucit les mœurs !'
Rolf Hermsen
This article was previously published in Preludium.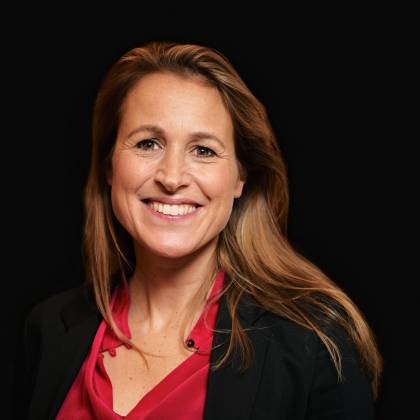 Would you like to lend your support?
Katinka Canté would be happy to discuss all the options with you.