'Everybody, close your eyes!' Clarinettist Arno Piters leads a woodwind rehearsal at Concertgebouworkest Young. Eighty-four young European musicians will be taking part in this unique youth orchestra again this summer. We take a look behind the scenes at a wind quintet rehearsal during the 2022 edition of Young.
'Talk to each other!' Five young people are sitting in a semicircle staring intently at the scores on their music stands. Arno Piters is leading these Young wind players in a rehearsal of pieces for wind quintet. Sectional rehearsals overseen by musicians of the Concertgebouw Orchestra are an important part of the Young programme. So what are some of the actual tips that experienced orchestral musicians can give to these young players? What can they say to ensure that the performance will have vastly improved in just an hour and a half? Let's take a closer look!
Partner in crime
In his enthusiasm, Arno tries to give the youngsters the most valuable pointers he can – tips and tricks they are sure to hear numerous times as they develop into mature musicians, but at this early stage are real eye-openers. Much of what Arno tells them is about ensemble playing – about communicating with each other and the audience, and about looking at and listening to one another. But also about being present. 'I want to hear more personalities! Be present over and across your music stands. You want the audience to feel engaged. Make the listener your "partner in crime".'
'You can be relaxed as you play, but you should never feel at ease in your concentration.'
Relay race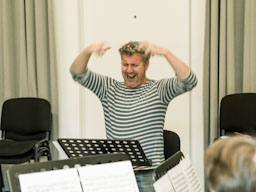 In Samuel Barber's Summer Music, the melody passes from section to section like a strand connecting all of them, starting with the horn and continuing on in the oboe. Arno explains that the players have to take a very active role in passing on the melody: 'It's like a relay race. The moment you think, "Hey, this is going great," it could all collapse. You can't let your guard down. You can be relaxed as you play, but you should never feel at ease in your concentration.'
Spectacles
The young musicians are all of a high calibre. And they're ambitious. But obviously, they make mistakes, too. Arno is clear about how to handle mistakes when making music at a high level: 'You can make mistakes – just not silly ones. At any moment, things may take an unexpected turn, but nothing you could reasonably have prevented should go wrong. That's why you make notes in your score, as we do in the orchestra. If I'm playing a passage with the bassoon, for instance, I write down the word "bassoon". And if I need to be extra alert somewhere, I draw a pair of spectacles.'
Spot on
One particularly difficult thing is for instruments with different degrees of resistance to them to make an entry together without the aid of a conductor. The flute and clarinet, for example, produce tones more readily than the other three wind instruments.
In Nino Rota's Petite offrande musicale, the oboe, clarinet, bassoon and horn begin together. It's up to the oboist to cue the other players with a physical gesture he makes with his instrument. Unfortunately, the other three can't seem to coordinate themselves. 'Look at each other!' Arno exclaims. But that doesn't seem to help much. 'Right,' he says, 'everybody, close your eyes!' The group look a bit puzzled, but do as they're told. They have another go, but still aren't together. Arno then turns to the oboist: 'Try breathing in, in tempo. The speed of your breath will indicate the tempo, and the others will hear it.' All eyes remain closed. Then there's a powerful intake of air, and all four instruments are spot on. Arno is happy: 'Now when your eyes are open, it will be absolutely perfect.'
Marije Bosnak
This article was originally published in the 2022 Annual Report of the Foundation Concertgebouworkest.
'fun' and 'a pressure cooker' – our musicians about Young
To ensure that participants are unencumbered by financial constraints, enrolment in Young is free. Travel expenses, too, are reimbursed. None of this would be possible without the donations of private individuals, funds and corporate partners of the Concertgebouw Orchestra.